Mother's Day Hours: 11:00am to 9:00pm – with a special a la carte menu!
(Reservations suggested in advance.)
At La Pergola, Mother' Day – and family – has very special meaning: Our menu proudly reflects treasured recipes and techniques that have been passed down for generations to our kitchen – and we delight in bringing them to your plate.
We welcome the chance to help you celebrate the wonderful women in your life with our authentic, artisan Northern Italian cuisine and our acclaimed hospitality.
Let us make your Mother's Day truly memorable – and delicious!
Wishing a very happy Mother's Day from our family to yours!
Agron and Driola 

As the weather warms and we see the first signs of spring surrounding us, the traditions of Easter celebrate this wonderful time of rebirth with foods that evoke the beauty, flavors and excitement of the season.
At La Pergola, we savor the opportunity to share our family's Easter recipes with you. You can choose from our open menu and enjoy the specials we've prepared to celebrate Easter Sunday.
Here are just a few of the delicious options that await you:
Braised Lamb Shank with a Silky Fennel and Potato Puree
Artichoke Stuffed with Artisan Parmigiano – Reggiano Cheese, Roasted Pine Nuts and Black Italian Olives
Fresh Basil Pesto Gnocchi toped with Pecorino-Romano Cheese
And, you can top it all with our signature homemade desserts!
So, why not join us for Easter lunch or dinner from 11:30 am to 9:00 pm, and add some new traditions to your own?
Wishing a very happy Easter from our family to yours!
Agron and Driola

La Pergola will be celebrating our 6th Valentine in Millburn with a complimentary cocktail party for our valued customers, friends and family.
Come join us this Wednesday, February 10 from 5:00pm to 8:00pm for gourmet hors d'oeuvres and samples of our famous homemade pasta.
We look forward to the opportunity to thank our community for your support!
After the complimentary cocktail party, we welcome you and your special someone to get a table and order from our regular and special menu.
Happy Valentine's Day
Agron and Driola Kaloshi
Owners & Chefs

At La Pergola, we are extremely proud and honored to be listed among the top restaurants in New Jersey on toprestaurants.com, and we thought we'd share the good news with you, our most valued customers!
Thank you!
Agron and Driola Kaloshi
Owners & Chefs 

We wanted to reach out and thank you for being such a special part of our past year.
2015 was filled with amazing opportunities, travels and flavors for our family. While we were lucky enough to study at Le Cordon Bleu and bring the experience back to our menu – and your plates –  our biggest inspiration truly comes from each of you. Your incredible support, enthusiasm and smiles are sincerely the most precious ingredients of La Pergola's success – and what continues to motivate us to evolve each and every day.
We look forward to welcoming you to our table throughout 2016 and hope your upcoming year is one filled with much love, laughter, health, happiness and marvelous meals shared with fantastic friends.
Wishing you all health, happiness, love and peace for 2016!
Best,
Agron & Driola Kaloshi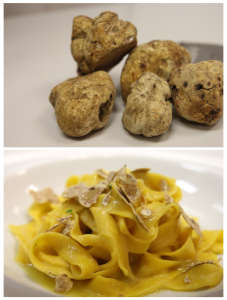 From the mountains of Italy, these precious gems from the earth abound with a rich aroma and flavor that none other can bring to your dish.
The Italian white truffle, Tuber magnatum pico, is popularly known as the White Alba truffle, prized for its superb gastronomic qualities.
Now on your plate at La Pergola until December!!!!
Best,
Agron and Driola Kaloshi
Owners & Chefs

At the end of summer, Agron and I were fortunate enough to sneak away for a quick hiatus with the kids for a whirlwind tour of one of the world's most romantic cities, Paris. While the weather was a bit dreary, the experience was wonderfully enlightening. While Agron went checking out the wineries and the children hit the sights and museums, I was able to realize one of my lifelong dreams – going for culinary lessons at the world renowned Le Cordon Bleu.
There were many 'pinch me' moments while I learned the intricacies of preparing Parisian fare from three formidable gastronomic gurus: Cuisine Chef Christian Moine, Pastry Chefs Olivier Mahut and Walter Daniel. Mostly, I was struck time and again about how wonderfully intertwined the cuisines of Northern Italy and Northern France are– both sharing striking similarities that can be traced back as far as the reign of Catherine de' Medici, the Italian noblewoman who was Queen of France from 1547 until 1559, as the wife of King Henry II.
Studying at Le Cordon Bleu was such a wonderfully profound and impactful experience. I returned to La Pergola bursting with ideas to best bring the terrific techniques, flavors and inspiration I absorbed there to our kitchen, menu and ultimately to your taste buds!
The artist Conrad Hall said, "You are always a student, never a master. You have to keep moving forward."
I'm constantly challenging myself to evolve as a chef – and I sincerely look forward to sharing my culinary journey with you.
Sincerely,
Driola Kaloshi
Owner & Chef