La Pergola will be celebrating our 6th Valentine in Millburn with a complimentary cocktail party for our valued customers, friends and family.
Come join us this Wednesday, February 10 from 5:00pm to 8:00pm for gourmet hors d'oeuvres and samples of our famous homemade pasta.
We look forward to the opportunity to thank our community for your support!
After the complimentary cocktail party, we welcome you and your special someone to get a table and order from our regular and special menu.
Happy Valentine's Day
Agron and Driola Kaloshi
Owners & Chefs

At La Pergola, we are extremely proud and honored to be listed among the top restaurants in New Jersey on toprestaurants.com, and we thought we'd share the good news with you, our most valued customers!
Thank you!
Agron and Driola Kaloshi
Owners & Chefs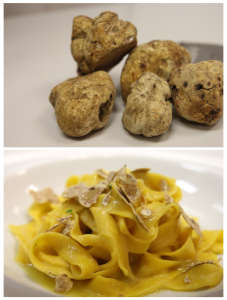 From the mountains of Italy, these precious gems from the earth abound with a rich aroma and flavor that none other can bring to your dish.
The Italian white truffle, Tuber magnatum pico, is popularly known as the White Alba truffle, prized for its superb gastronomic qualities.
Now on your plate at La Pergola until December!!!!
Best,
Agron and Driola Kaloshi
Owners & Chefs

At the end of summer, Agron and I were fortunate enough to sneak away for a quick hiatus with the kids for a whirlwind tour of one of the world's most romantic cities, Paris. While the weather was a bit dreary, the experience was wonderfully enlightening. While Agron went checking out the wineries and the children hit the sights and museums, I was able to realize one of my lifelong dreams – going for culinary lessons at the world renowned Le Cordon Bleu.
There were many 'pinch me' moments while I learned the intricacies of preparing Parisian fare from three formidable gastronomic gurus: Cuisine Chef Christian Moine, Pastry Chefs Olivier Mahut and Walter Daniel. Mostly, I was struck time and again about how wonderfully intertwined the cuisines of Northern Italy and Northern France are– both sharing striking similarities that can be traced back as far as the reign of Catherine de' Medici, the Italian noblewoman who was Queen of France from 1547 until 1559, as the wife of King Henry II.
Studying at Le Cordon Bleu was such a wonderfully profound and impactful experience. I returned to La Pergola bursting with ideas to best bring the terrific techniques, flavors and inspiration I absorbed there to our kitchen, menu and ultimately to your taste buds!
The artist Conrad Hall said, "You are always a student, never a master. You have to keep moving forward."
I'm constantly challenging myself to evolve as a chef – and I sincerely look forward to sharing my culinary journey with you.
Sincerely,
Driola Kaloshi
Owner & Chef

Once again, we are honored to be awarded the Diners' Choice Award by OpenTable for best restaurants in Millburn!
We appreciate your business and your opinion very much.
For updates on events and specials, please like us on Facebook, follow us on Twitter, and sign up for our newsletter!
We invite you to write your own review about your experience at La Pergola.
Thank you for dining at La Pergola!
Best Regards,
Agron and Driola Kaloshi
Owner's / Chefs
La Pergola Restaurant
120 Essex Street
Millburn, NJ 07041